Smart Assembly
Improving Assembly and Test
Sensing and motion control solutions for assembly and test applications.
emap
Fully Electric Press System with integrated force and position monitoring and motion control. Promess offers 33 different servo presses with capacities ranging from less than an ounce to over 200,000 pounds to fit any application.
PDC
Develop and prove out your process in our PDC before the equipment hits your floor.
Slide
Smart Assembly Systems Slash Scrap, Boost Productivity for Automotive CV Joints.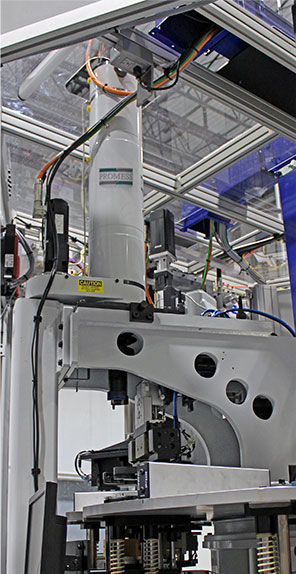 In-Process Monitoring Systems | Torque Systems | Servo Presses
We are an industry leader in force and torque sensing applications, giving machines the ability to "feel" how a part or product is being made. Data is collected during these closed-loop operations, and manufacturers use that information to continually improve their processes.
Need Help Finding the Right Solution?
Not sure what solution is right for you, call us.
Challenges We Solve
---
✔ Minimize the Cost of Manufacturing and Automation
✔ Eliminate Part Quality and Warranty Issues
✔ Reduce Machine Downtime
✔ Shorten Assembly Cycle Times
✔ Never Worry about Safety or Ergonomics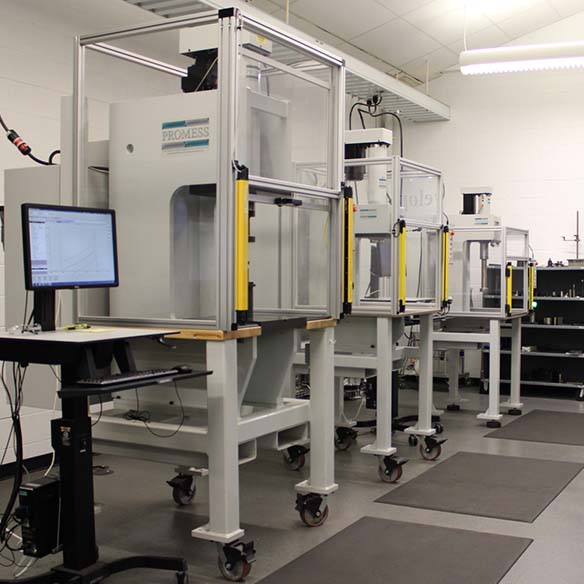 Prove Out Your Process
The PDC is available to you for help verifying your process at no cost to you. Bring in or send in your parts and work with an engineer to find the technology best suited for your application.
How We Compare to Other Technologies?
When looking for equipment to assemble your parts there are many options. Learn more about how do we compare to those technologies
WHAT OUR CUSTOMERS ARE SAYING
Top Notch
Promess' 24/7 Support is Top Notch
Automotive Customer, Electrical Engineer
Every person on your team that I have worked with has been very professional, knowledgeable and very customer-oriented. I can't put into words how your support has helped our 24/7 operation and helped me personally. Thank you for that kind of support!
Top Notch
Long life on our Promess Press
Agriculture Customer, Process Engineer
We have been using a Promess Press in compliant pin application for 13 years and it has performed very well. This year we have a new application and I would be interested in what Promess has for solutions.
Outstanding Support
Outstanding Support When I Needed It Most
Automotive Customer, ENGINEER
I feel that the best products are worthless if I can't get support when I need it. The support your team has repeatedly provided to us has been nothing short of the best out there today, whether we actually needed it or just thought we did.
Promess Webinars are Loaded with Information!
Promess Webinars are loaded with information!
Automotive Customer, Process Engineer
I first found out about Promess' Webinars from a friend who has been very involved in the manufacturing industry. He sent me the link for one of the webinars and oh my goodness. Their webinars are full of information and I am looking forward for the next one.
24/7/365 Support is Phenomenal
24/7/365 Support is Phenomenal
Automotive Customer, Senior Manufacturing Engineer
We ran into a problem on a Saturday evening at our manufacturing plant where we needed to have someone come out and see what is wrong with it. Promess sent one of their engineers out to come and take a look and we were up and running again in less than an hour. I appreciate the support that I received from applications engineer and I know I can count on him if something happens again!
Promess Applications Team was very Knowledgeable
Promess Applications Team was very Knowledgeable
Automotive Customer, Block & Crank Machining Team Manager
I was at your facility a few weeks ago to conduct a press study…while there, The Promess Applications Team was extremely helpful and hospitable. I would like to leave a compliment with you and let you know that I was very impressed with your facility and equipment. I was very impressed with Promess' expertise and customer service.
3kN Press
Promess 3kN Press is Excellent
We have had a lot of success with the 3kN press, and I would love to find other applications for it in our plant; I am excited to see the possibilities.
Quality Products
Promess Makes Quality Products
Machining, Quality Engineer
Outstanding, congratulations on the move. Thank You for providing a quality product along with an excellent group of Associates to work with at Promess. The recent receipt of the press for the new project has been a great experience with Promess and look forward to another when the opportunity happens.
Best Support in the Industry
Best Support in the Industry
Transportation, Controls Engineer
Perfect guys, that was an exactly what I needed to know. Your group has the best support in the industry!
Great Product!
I definitely appreciate all the help and information! Great product! Working on this project now and will be in touch again soon. Thanks again!
I was Impressed with Promess' Products!
I was impressed with Promess' Products!
Material Handling Equipment, Mechanical Engineer
Thank you very much for the opportunity to use Promess's development center yesterday! I was very impressed with Promess' products, site and the support provided for our testing. Our team is eager to receive the collected data and move forward with the project.
Request a Promess Greenbook
The Promess "Greenbook" is a compilation of product development, white papers, application reports, and customer references. If you are interested in receiving this comprehensive resource guide, please fill out the form and Promess will send one out.