TorquePRO | Torque System
---
TorquePRO
The Promess TorquePRO system is a fully electric, programmable, rotational actuator. Built to control torque and position in production and test environments.
The TorquePRO is the best solution for accurate and repeatable torque for manufacturing and test applications from 1 Nm and below, to over 15,000 Nm.
---
Control
Highly Accurate Motion Control
Real time control and monitoring of torque and angle
Control to a Torque, Position, or any number of other inputs
Monitor
Verify every process or test meets its requirements
Manufacture with no fault forward
Never ship a bad part from your facility again
Robust
Built-in mechanical overload protection
Hold the rated load of the system indefinitely
Sleek, compact design allows for easy integration or retrofit
---
Hollow Shaft TorquePRO
Tired of testing components for torque functionality prior to assembly with the knowledge that the characterization will change once the final mating is done?
Explore the possibilities that the Promess Hollow Shaft TorquePRO's can offer to eliminate this 'test before assembly' headache.
Features
Move to an angle
Move to a torque
Moves to multiple positions
Hold to a constant torque
Base mounts / face mount options
Smooth running servo technology
Easy integration
What is your application?
Talk to one of our expert engineers and learn more.
System Powered By Promess Software
---
Promess powerful system software solution offers custom commands, flexible configurations, and adjustable features to address your specific needs.
Features of Promess Software
---
TorquePRO Mechanics
Complete System
What's Included
Torque Module / Spindle Includes
Integrated Torque Transducer
Preamplifier
Servo Motor & Amplifier
Safety Drive Enclosure (SDE)
Promess UltraPRO Controller
Digital Signal Conditioner
Cables
---
Flexible System Configurations
Integrated Torque Spindle Package

Integrated Torque Transducer
Servo Motor

Plug & Play Design
Compact
Torque Transducer is Mechanically Protected from Overload Conditions
Easy to Couple to
Integrated Angle / Position Sensing
Flexible Mounting; Face or Base Mount Available
---
Looking for a More Tailored Solution?
Looking for a plug and play systems that allows you to be up and running same day as delivery? Learn more about our Work Stations.
TorquePRO Sizing
Torque Capacity
(Nm)
Torque Capacity
(lb-in)
Max Speed
(RPM)
5
44
250
20
177
250
50
442
250
100
885
250
200
1,770
250
500
4,425
100
1,000
8,851
75
2,500
22,127
20
5,000
44,254
10
10,000
88,507
4
---
Other sizes available upon request, email [email protected].
Drawings available upon request, email [email protected].
---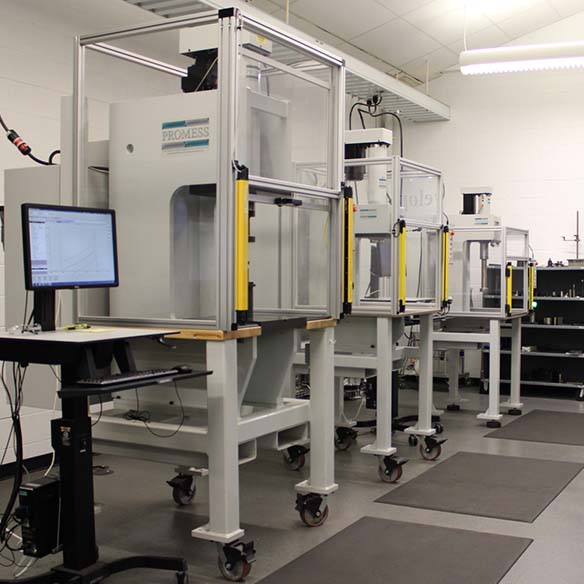 Prove Out Your Process
The PDC is available to you for help verifying your process at no cost to you. Bring in or send in your parts and work with an engineer to find the technology best suited for your application.