Robot Press L-Series
The Robot Press L-Series is a line of lightweight press systems intended for use as end effectors in robotic assembly applications.
The Robot Press is intended for use in flexible assembly cells where the process requires that the press be brought to the part rather than bringing the part to the press. Part changes or adjustments can be made by changing robotic positioning rather than swapping expensive tooling and die sets, or changing machine designs.
---
Controllability
Press motions are fully programmable
Integrated monitoring and motion control
Force Feedback
Presses are equipped with force and position sensors to support intelligent assembly operations
Featuring
Lighter press design for mobility
Lubrication system that allows automatic greasing of the ball nut
Hardened cap to take load, instead of transferring to robot axis
Robot and flange mounting
Robustness
Rock-solid mechanical design – use over multiple projects, compounding ROI
Electronics and mechanics designed to last millions of cycles
Overload protection built into software to eliminate damaging equipment
---
Capabilities
Push or pull with equal accuracy
360° mounting orientation
Easy to use Windows software
Capabilities ranging from less than an ounce to over 200,000 lbs.
Data
Data acquisition and storage
In-process verification and
monitoring
Integrated load cell
Network multiple systems
Robustness
Ball screw design that features
dynamic press load capacity 2.5 to
3 times greater than the stated
load capacity
Servo system sized to reach rated press load capacity in the continuous current range of the motor & drive
Do You Have an Application?
Talk to one of our expert engineers or learn more about proving your
application in our Process Development Center.
System Powered By Promess Software
---
Promess powerful system software solution offers custom commands, flexible configurations, and adjustable features to address your specific needs.
Features of Promess Software
---
Robot Press Mechanics
Complete System
System Includes
Fully Programmable Axis of Motion
Integrated Force Transducer
Promess Controller with Windows Based Software
All Required Drives, Electronics & Cables
Integrated Back Stop Motor Mounting Package
Mounting Block for Easy Robot Installation
Options
Additional Load Cell Ranges
Additional Stroke Lengths
Single Cable Feedback
Absolute Encoder
Looking for a More Tailored Solution?
Looking for a plug and play systems that allows you to be up and running same day as delivery? Learn more about our Work Stations.
Robot Press L-Series Sizing
FORCE
(kN)
STROKE
(mm)
SPEED
(mm/sec)
1
100, 300
200, 150
10
200, 400
300
20
200, 400
300
30
200, 400
300
50
200, 400
300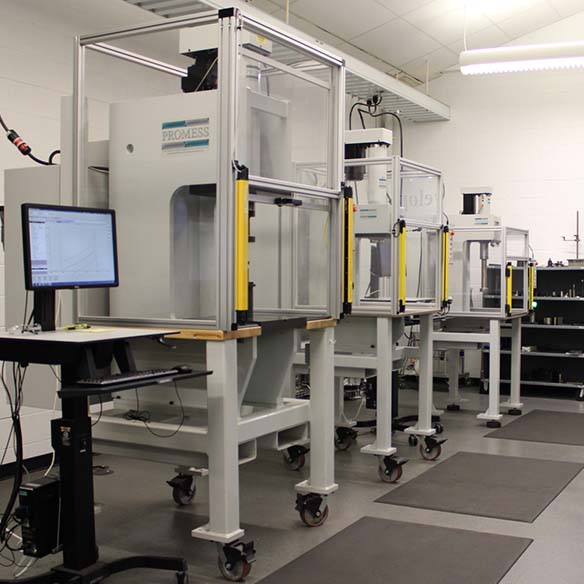 Prove Out Your Process
The PDC is available to you for help verifying your process at no cost to you. Bring in or send in your parts and work with an engineer to find the technology best suited for your application.
How We Compare to Other Technologies?
When looking for equipment to assemble your parts there are a lot of options. Learn more about how Promess compares to other press technologies.