Press and Rotate Applications
REMAP Applications
Promess REMAP Application Systems are used by Builders and End Users in a broad range of testing, monitoring and assembly applications.
---
Seal Press
Bearing Pre-Load
Spline Alignment and Press
---
Application: Bearing Pre-load
The REMAP is the perfect tool when a component must be pre-loaded axially during a torque-to-turn test. Breakaway torque and running torque can be tested under varying load conditions. All data can be uncollected and plotted, including the torque vs. force curves.
Application: Seal Pressing
Rolled or cut O-rings and seals are two common issues that can be greatly reduced by implementing Promess' REMAP solution. Repeatable control of both the linear and rotational axes while monitoring force, torque and position through the entire operation will help produce a quality assembly every time.
Application: Shim Select
The complex process of selecting shims is made simple with the REMAP. The axial load on the assembly is progressively increased until the turning torque reaches the target level. At this point, the exact gear height is measured and the required shim thickness is calculated.
Application: Self-Actuating Torque Test
The REMAP is perfect for applications where you must feed out, couple to a component, and perform a torque-to-turn test. It is well suited to handle multiple part models. The Promess motion controller controls all motion which is performed by the REMAP.
Application: Bearing Lash Adjustment
Application: Assemble to Torque
Application: Spline Alignment & Press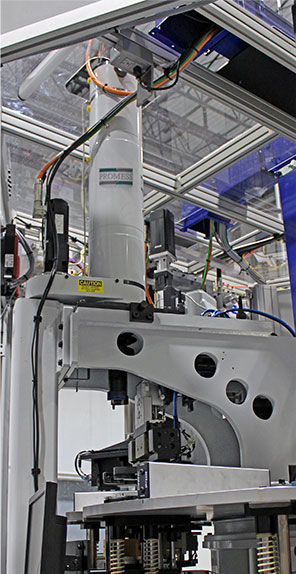 Smart System Slashes Scrap for Auto Parts Assembler
Global automotive supplier IFA Group makes driveshafts and other components for cars, trucks, tractors, and industrial machinery. The company has assembly plants in Germany, Poland, China and the United States.
One of the company's main products are universal joins and constant velocity (CV) joints. These devices allow uninterrupted transmission of torque while the driveshaft is flexed. Universal joints utilize two yokes which are joined with a cardan cube or cross. CV Joints use steel balls that travel in steel grooves to transmit the torque.
What is Your Application?
Talk to one of our expert engineers or learn more about proving your application in our Process Development Center.
REMAP CASE STUDIES
Automotive Belt Tensioner
Producing automotive belt tensioners requires an
assembly system that can monitor and control both linear and rotational motions in real-time to achieve the proper assembly sequence. The tensioner consists of a spring inside a housing.
What It Did For Our Customer
Allowed them to create duplicate parts every time
Allowed them to simplify machine building and maintenance
Built in data collection allowed the process to be stored, providing traceability for each part
Cross Thread Prevention
The customer needed to thread two sub-assemblies together and torque to a specific value. The old way of making this part was to spin some electric torque-driver tools, while actuating them to the part with air cylinders
What It Did For Our Customer
Allowed them to reduce scrap rate of the part by over 80%
Allowed them to cut leak test failures to almost nothing
System paid for itself within the first 9 months of use
Stay up to date on the latest news from Promess
Event and webinar notifications, case studies, how to articles, product releases and more.