Work Stations | Benchtop Press
---
Benchtop Press
The Promess Benchtop Press Work Station is a compact, table top work station that includes the safety and benefits of a full-size station.
The Benchtop Work Station features a small footprint and is ready for both low-volume prototyping, through pre-production, and into full volume production. The Promess easy to use and highly adaptable software enables quick and easy press assembly validation.
---
Engineered for You
Workstation can be configured from 3 standard sizes, or a tailored size to fit your application.
Press Force ranges up to 40 kN
Small footprint is ideal for tight floorspace requirements
Lab Environments
The compact station is perfect for lab environments where a component assembly can be optimized by testing in a controlled environment using production-ready equipment. This testing throughout the design phase can help to design a process that results in increased throughput, less failed parts and decreased machine footprint when it reaches the manufacturing floor.
Standard Frame Options
Various standard size stations support different framing options and equipment sizes.

Still need a more tailored solution, contact us!
Programmable Speed & Acceleration
12kN Load Rating
Opto-Touch Cycle Start Switch
Push and Pull Capabilities
Precise & Flexible
Repeatability in Your Process
What is your application?
Talk to one of our expert engineers or learn more about proving your
application in our Process Development Center.
System Powered By Promess Software
---
Promess powerful system software solution offers custom commands, flexible configurations, and adjustable features to address your specific needs.
Features of Promess Software
---
Benchtop Press Mechanics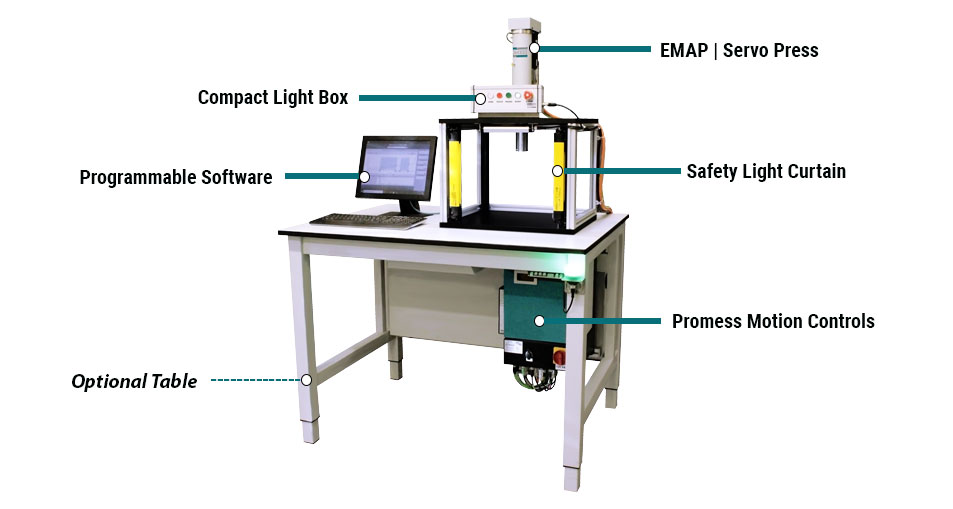 Standard Frame Sizes
*Flexible Configurations and Sizing. Contact us regarding your application.
---