Promess, Inc. manufactures turnkey monitoring and motion sensing systems for precision assembly and test applications based on a series of standard hardware components synchronized, controlled and monitored with sophisticated programmable electronics and specialized proprietary software. They will exhibit four system "building block" technologies in Booth 9219 at Automate2019 in Chicago April 8 – 11.
On display will be the new PRO-Bot2x two-axis part-positioning arm with Joined Axis technology, the Promess Electro-Mechanical Assembly Press (EMAP), the Promess TorquePRO Torque Assembly System and the Promess Rotational Electro-Mechanical Assembly Press (REMAP). These four products may be used individually to perform discrete assembly functions, or combined into sophisticated, multi-function assembly and test systems.
The PRO-Bot2x is a precision part positioning robot arm which can position parts for safely loading and unloading parts. The Pro-Bot2x can handle up to 500kN of load when it is not moving. It is designed to bridge the gap between manual and fully automated operations in press applications by providing accurate movement between manual or robotic load/unload stations and multiple press locations utilizing Joined Axis technology. A single Promess UltraPRO controller can be used to control both the PRO-Bot2x and the press operations to simplify operational integration.
The EMAP is a fully electric, servo driven ball screw press with integrated motion control and monitoring for force, position and other application parameters as required for in-process verification and monitoring. Promess EMAPs are available with capacities from less than one ounce to more than 200,000 pounds.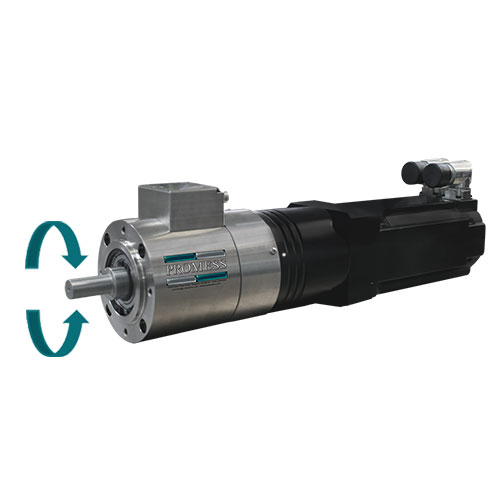 The TorquePRO is a fully electric, servo driven unit that electronically monitors both up to 15,000 Nm of torque and angular position in real-time using a closed-loop feedback system. The TorquePRO can move to an angle, move to a pre-set torque, move to multiple positions and/or torques, and hold a constant torque all using completely programmable parameters.
The REMAP combines precise, fully programmable control of linear and rotary motion in a single unit using built-in force and torque sensors. It is programmable for position, velocity, acceleration, angle, angular velocity and angular acceleration using both relative and absolute limits. Applications include pressing to position, pressing to a programmed force, turning to an angle and turning to a pre-determined torque all with real-time feedback.
We has been creating solutions for productivity, quality, product certification, testing, process control, and operating cost reduction challenges for more than 30 years. Automate 2019 attendees are invited to visit Booth 9219 and discuss their assembly and test challenges with a Promess engineer who can help put Promess sensor feedback and motion control expertise to work solving them.