Bolt | Reciprocating Actuator | Rapid Motion
---
Bolt
The Promess Bolt is a reciprocating actuator paired with Promess' UltraPRO controller to form a complete package intended for applications requiring programmable, rapid, non-stop motion at frequencies not well suited for a ball screw-type press.
Built in force and position sensing provides feedback to make decisions on the fly and to collect detailed test data.
---
Extensive Capabilities
Operate at any speed up to 10 cycles/second
Dynamically adjustable amplitude
Driving force up to 60 kN
Controllability
Integrated Motion Control
Integrated Monitoring
Force Feedback
Repeatability
Clone your assembly
Duplicate, precisely for all production
Fault condition if component is outside parameters for some reason
---
Integrated Force Monitoring
Position Monitoring
Dynamic Stroke Adjustment
Compression & Tension
Continuous or Externally Triggered Cycle
Do You Have an Application?
Talk to one of our expert engineers or learn more about proving your
application in our Process Development Center.
Complete System
BOLT SYSTEM INCLUDES
Dual-Eccentric Servo Technology
Integrated force and position transducers
Servo Motors
Digital Signal Conditioners (DSC)
Safety Drive Enclosure
Promess UltraPRO controller
Windows based Promess application software
Cables
Motor Power cable
Motor encoder / resolver cable
Signal Cable DSC
Options Available
External sensor(s) with signal conditioning electronics
Components mounted into an optional electrical panel
Desktop or panel PC
FLEXIBLE SYSTEM CONFIGURATIONS
Promess software solutions offer a high level of flexibility, allowing our customers to configure the system solution to fit their process requirements.
Fatigue Testing
Long Term Characterization of Mechanical parts
Die Compaction of Powdered Materials
Material Packaging
Bolt Sizing
| Force (kN) | Max Stroke (mm) |
| --- | --- |
| 1 | 26 |
| 4 | 26 |
| 8 | 26 |
| 20 | 26 |
| 30 | 18 |
| 60 | 8 |
*Speeds of 0 – 30 Hz depending on model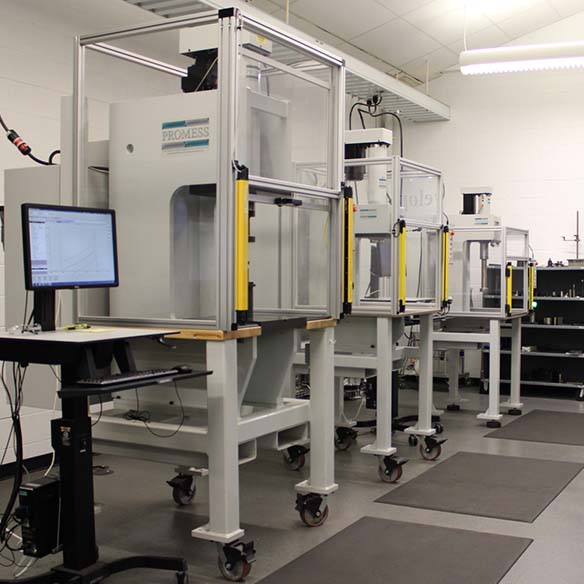 Prove Out Your Process
The PDC is available to you for help verifying your process at no cost to you. Bring in or send in your parts and work with an engineer to find the technology best suited for your application.